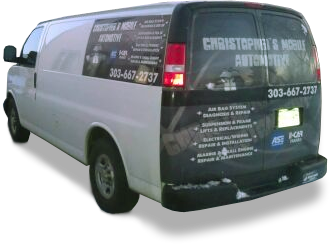 Mike Christopher, Parker Colorado, Douglas County, CO - Expert Auto Mechanic, Car and Truck cheap auto repair - 1998 - 2017

Air Bag System - Diagnosis and Repair

Car and Truck Auto Repair will reset SRS Airbag Computer Modules. We can also fix the dashboard light, repair any accident damage and supply Crash Data. When any-one of your vehicle's airbags is deployed, the airbag control module (or the 591, diagnostic unit, airbag sensor, & airbag computer) will need to be replaced or reprogrammed.

Suspension and Frame - Lift and Replacement

Accurate alignment and suspension repair for your Colorado-Driven truck! Your truck needs to

be tough. Only trust a qualified Douglas County (Parker, Colorado) mechanic to insure your vehicle's safety. Christopher's Car and Truck Auto will inspect & repair anything your truck may need!

Electrical Wiring - Repair and Installation

Cars and trucks electrical components these days are not like they were just 20 years ago.

We have the tools and high-end equipment to service all car and truck computers.

Marine and Small Engine - Repair and Maintenance

Weather your play ground is Cherry Creek or Lone Tree you need your water craft to

work! Give us a call anytime to insure quality, fast, maintenance or repairs

Parker Colorado Mobile Mechanics! We are near your home in or near Parker to provide a free estimate for your broken car, truck, SUV or small engine. We use state of the art tools and can remedy any vehicle need. Colorado can be tough on your car! Call us today to make sure your ready no matter what the weather does.

Being Parker Colorado Mechanics, we work and play in Parker CO. It is a very nice area not far from Denver. Most of our work comes from trucks and small engine service needs in the Parker area's. However we specialize in everything not just lifted trucks.

If your BMW or Mercedes needs a fixen we can do anything from new batteries to complete diagnostic tests that your dealer would usually charge 2 or 3 times as much for. Late model ford problems, or brand new off the show room floor upgrades, we can help you out with it all.

Feel free to come by our shop not far from Lincoln Avenue, or let us know what's going on and we will come out to you. Christopher's Automotive Service has a full fleet of tools on board service vans ready and waiting to help you out!


SMALL SHOP = CHEAP (SMALL) PRICES FOR YOU!