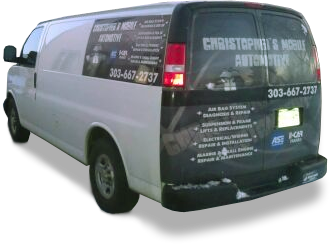 Car and Truck Mobile Repair Service -, Denver Colorado, Arapahoe, Douglas and Denver County, Colorado Non-Mobile Mechanics

                                                                                    All Rights Reserved - (720) 635-3786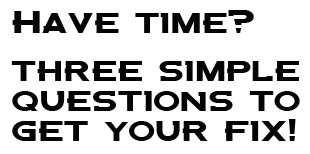 Serving all of South Metro Denver, Colorado and Douglas County, CO

at our shop - no longer a mobile service!

With all the things to do in Denver, working on your car is not usually on the top of the list. So leave it to Christopher's auto repair service. Weather its a broken down vehicle, an insurance repair or you just want to upgrade your car they can do it all and do it safely and make it affordable for you.

Ford vehicles are their preference of choice. However they are expert mechanics on all cars, trucks and SUV's. Imports or Domestic, luxury or work vehicles they have worked on all of them in the Denver area and for over 40 years. That's a lot of experience. Certainly more than you can get from reading on how to make that repair or upgrade your self. Leave it to the experts in the Denver area which includes South Suburban and South Metro Denver.

The streets are sandy in spring, the roads icy in the winter with everything from slush to hail in between. Christopher's Mechanics can fix it all. From torn off mufflers to broken radiators. Lift kits for your truck to make it easier to see in traffic and get around in the snow, or lowering your suspension for a faster type of car, they have done it all.

         South Metro Denver Mechanics!

ASE certified like most expert mechanics Christopher's Auto & Truck Denver service take's it a step further.  We are multi-faceted and certified to work on imports or domestic. Ford, Chevy and Dodge to BMW, Volvo or Mercedes.

Repairing your own Subaru or Volkswagen can be an easy fix if its an air filter or oil change. Even at that its usually messy and if you don't have a garage it can likely be either hot and uncomfortable or cold and irritating! So if you don't necessarily enjoy working on your own car, or you lack the tools to make the job easy, then call today or email for a
free estimate
on your
vehicle repair needs
!
Chances are your car or truck may go through a little more here in the Denver area than say a car in Kansas or Nebraska. Colorado has lots of trails, rivers and lakes to enjoy. The rocky mountains are amazing. And most people need their car or truck to get them to these places. On top of this the changing weather ads more stress on your car. When they get hot in the days, then cold or even freezing at night, the parts in your car move! They expand and contract and go through a little more wear and tear then some other daily drivers. Keep your car or truck well maintained and pay attention to signs of stress and you'll be good to go.

Call or email today!

South Metro Denver - Colorado's Affordable and friendly car care service experts!