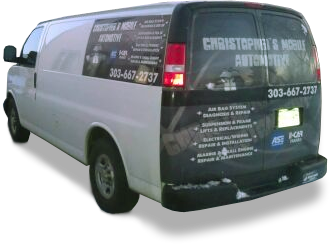 Car and Truck Auto Repair -, Douglas County, Castle Rock Mechanic, Just North of CastleRock Colorado

Air Bag System - Diagnosis and Repair

Car and Truck Auto Repair will reset SRS Airbag Computer Modules. We can also fix the dashboard light, repair any accident damage and supply Crash Data. When any-one of your vehicle's airbags is deployed, the airbag control module (or the 591, diagnostic unit, airbag sensor, & airbag computer) will need to be replaced or reprogrammed.

Suspension and Frame - Lift and Replacement

Accurate alignment and suspension repair for your Colorado-Driven truck! Your truck needs to

be tough. Only trust a qualified Denver area mobile mechanic to insure your vehicle's safety. Christopher's Car and Truck Auto will inspect & repair anything your truck may need!

Electrical Wiring - Repair and Installation

Cars and trucks electrical components these days are not like they were just 20 years ago.

We have the tools and high-end equipment to service all car and truck computers.

Marine and Small Engine - Repair and Maintenance

Weather your play ground is Cherry Creek, Chatfield or Pueblo you need your water craft to

work! Give us a call anytime to insure quality, fast, maintenance or repairs

We are located in Acres Green, a suburb of littleton, but in Lone Tree, Colorado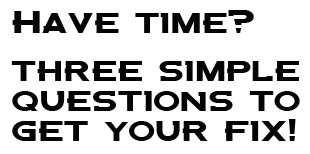 Serving all of Castle Rock Colorado (Douglas County) from Castle Pines and the Meadows to Pradera. From Wilcox and Wolfensberger RD. to the Plum Creek or Larkspur!

We have been providing top notch car care, truck repair, SUV service and small engine work to the city of Castle Rock for over 40 years! "Christopher's Car and Truck Repair" is owned and operated by Justin Christopher and his dad Mike Christopher. Their reputation alone keeps them busy with repeat business and word of mouth referrals.

Castle Rock, CO is a great place to live. Douglas County in general is a wonderful community. Castle Rock however has its own little nitch carved out. We have seen is grow from small shops off Wilcox street to what it is today! We now have our own hospital, movie theatre and a new ramp off I-25 into the meadows!!

Our mechanics are the best in Colorado. When it comes to working on cars trucks or small engines, you want someone you can trust. Our expert work and years of experience gives you just that. Call us today to schedule an appointment, or just let us know where your vehicle is and what seems to be the problem.