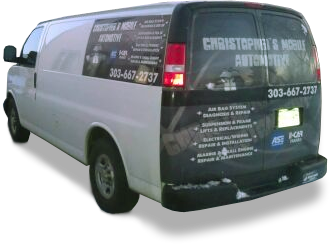 Mike Christopher, Douglas County Colorado, Littleton, Highlands Ranch  Auto Mechanic, Car and Truck service & auto repair - 1998 - 2017

Air Bag System - Diagnosis and Repair

Car and Truck Auto Repair will reset SRS Airbag Computer Modules. We can also fix the dashboard light, repair any accident damage and supply Crash Data. When any-one of your vehicle's airbags is deployed, the airbag control module (or the 591, diagnostic unit, airbag sensor, & airbag computer) will need to be replaced or reprogrammed.

Suspension and Frame - Lift and Replacement

Accurate alignment and suspension repair for your Colorado-Driven truck! Your truck needs to

be tough. Only trust a qualified expert mechanic to insure your vehicle's safety. Christopher's Car and Truck Auto will inspect & repair anything your truck may need!

Electrical Wiring - Repair and Installation

Cars and trucks electrical components these days are not like they were just 20 years ago.

We have the tools and high-end equipment to service all car and truck computers.

Marine and Small Engine - Repair and Maintenance

Weather your play ground is Cherry Creek, Chatfield or Littleton you need your water craft to

work! Give us a call anytime to insure quality, fast, maintenance or repairs

Mike Christopher of "Car and Truck Auto Repair" is absolutely the best 100% expert auto mechanic in Colorado. A Colorado native with over 30 years of hands on quality service. He and his son enjoy all that Colorado has to offer like camping 4-wheeling, fishing and boating. They enjoy what they do for a living which can be a hard thing to say when it comes to stubborn cars and greasy repairs. Which is more the reason to hire experienced pros! On site however Mike has a garage capable of holding 8 cars. Both Mike and Justin as well as all employees of Car and Truck Auto Repair are friendly and easy to talk to. If you have any questions about why your car is doing what it is, or maybe your not sure about an estimate you received from another Colorado Auto Shop, feel free to give Car and Truck Auto Repair a call anytime.

Car and Truck Auto Repair of Douglas County Colorado is a business that stands out because of it's  ASE-certified staff and the quality reputation they've earned with customers over the years. They didn't even have a need for a website until just lately because they stay so busy on repeat business and referrals. Christopher's Mobile Automotive supports both residential and commercial auto-service clientele. Call or email today to have your vehicle inspected or serviced by a quality driven Colorado

Auto Repair group whom is passionate about their business and yours! If your in need of an

insurance estimate, need diagnosis ran on your car or truck in the Lone Tree area, or if you even want

to upgrade your vehicle in any way shape or form just let them know. They are the best team in the

if your on a budget that's okay, you might be surprised what you can afford with Christopher's Team

The best car and truck repair in Douglas County I've ever worked with!

Auto Service Excellence is what ASE stands for. As auto service mobile mechanics we take that seriously. Christopher's Auto Repair, is trained with award winning providers using the best technologies available. But this doesn't create a great mechanic alone. We have years of hands on experience servicing cars, trucks and small engines. This also means we have years of customer service! You can drop your vehicle off for us to inspect for you. We can hook it up to our computers and let you know exactly how your car is feeling. Have a motorcycle, scooter, ATV or boat? We can help with all the needs, fixes and maintenance with these machines too!


Small shop - small prices - HUGE EXPERIENCE and great customer service