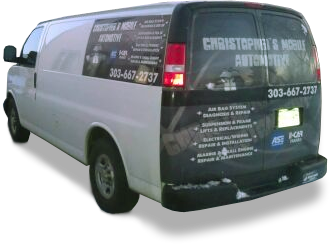 Mike Christopher, Douglas County Colorado, Littleton,  Highlands Ranch Auto Mechanic, Car and Truck cheap auto repair - 1998 - 2017

Air Bag System - Diagnosis and Repair

Car and Truck Auto Repair will reset SRS Airbag Computer Modules. We can also fix the dashboard light, repair any accident damage and supply Crash Data. When any-one of your vehicle's airbags is deployed, the airbag control module (or the 591, diagnostic unit, airbag sensor, & airbag computer) will need to be replaced or reprogrammed.

Suspension and Frame - Lift and Replacement

Accurate alignment and suspension repair for your Colorado-Driven truck! Your truck needs to

be tough. Only trust a qualified
Lone Tree
area mobile mechanic to insure your vehicle's safety. Christopher's Car and Truck Auto will inspect & repair anything your truck may need!
Electrical Wiring - Repair and Installation

Cars and trucks electrical components these days are not like they were just 20 years ago.

We have the tools and high-end equipment to service all car and truck computers.

Marine and Small Engine - Repair and Maintenance

Weather your play ground is Acres Green, Littleton or Lone Tree Colorado you need your water craft to work! Give us a call anytime to insure quality, fast, maintenance or repairs

The best car and truck repair in Douglas County I've ever worked with!

It may be a good idea to find a mechanic before you need one because making a sound decision can be difficult when we are faced with car trouble and time restraints at the same time. Finding a great local auto shop takes work and patience; you want to research and evaluate the facts in a relaxed fashion. Emergencies create an emotional climate that thwarts a clear and objective evaluation. So it's actually a good idea to find a repair facility before you need one.

In addition to having state-of-the-art equipment, training, qualified technicians, and information systems in place,  Car and Truck Auto Repair always scores high with its customers. Here are some reasons we know what were doing and have the up most quality in mind for all Colorado car and truck auto repairs around Douglas County (South Metro Denver).

We have training from and belong to the following

iATN (International Auto Technicians Association), ASA (Automotive Service Association).

Our technicians care about their level of expertise and have met the standards of membership.

In addition, our service repair professionals have training form the ASP (Automotive Service

Professionals), and ICAR (Inter-Industry Conference on Auto Collision Repair).