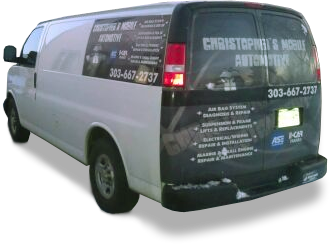 Mike Christopher, Denver Colorado, Littleton, Aurora, Highlands Ranch Auto Mechanic, Car and Truck mobile auto repair - 1998 - 2017

All Rights Reserved - (720) 635-3786

Air Bag System - Diagnosis and Repair

Car and Truck Auto Repair will reset SRS Airbag Computer Modules. We can also fix the dashboard light, repair any accident damage and supply Crash Data. When any-one of your vehicle's airbags is deployed, the airbag control module (or the 591, diagnostic unit, airbag sensor, & airbag computer) will need to be replaced or reprogrammed.

Suspension and Frame - Lift and Replacement

Accurate alignment and suspension repair for your Colorado-Driven truck! Your truck needs to

be tough. Only trust a qualified Denver area mobile mechanic to insure your vehicle's safety. Christopher's Car and Truck Auto will inspect & repair anything your truck may need!

Electrical Wiring - Repair and Installation

Cars and trucks electrical components these days are not like they were just 20 years ago.

We have the tools and high-end equipment to service all car and truck computers.

Marine and Small Engine - Repair and Maintenance

Weather your play ground is Cherry Creek, Chatfield or Pueblo you need your water craft to

work! Give us a call anytime to insure quality, fast, maintenance or repairs (720) 635-3786

Need some speakers after your car is fixed? Check out Seven ^

75 Olympus Circle

Littleton, CO 80124

Call

(720) 635-3786

or