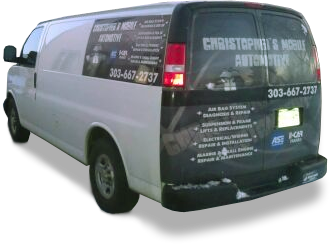 Mike Christopher, South Metro Denver Colorado, Littleton, Highlands Ranch |  Auto Mechanic, Car and Truck auto repair - 1998 - 2017

Air Bag System - Diagnosis and Repair

Car and
Truck Auto Repair
will reset SRS Airbag Computer Modules. We can also fix the dashboard light, repair any accident damage and supply Crash Data. When any-one of your vehicle's airbags is deployed, the airbag control module (or the 591, diagnostic unit, airbag sensor, & airbag computer) will need to be replaced or reprogrammed.
Suspension and Frame - Lift and Replacement

Accurate alignment and suspension repair for your Colorado-Driven truck! Your truck needs to

be tough. Only trust a qualified Denver area mobile mechanic to insure your vehicle's safety. Christopher's Car and Truck Auto will inspect & repair anything your truck may need!

Electrical Wiring - Repair and Installation

Cars and trucks electrical components these days are not like they were just 20 years ago.

We have the tools and high-end equipment to service all car and truck computers.

Marine and Small Engine - Repair and Maintenance

Weather your play ground is Littleton, Chatfield or Lone Tree, Douglas County (South Metro Denver) you need your water craft to work!

Car and Truck Auto Repair
, also known as "Christopher's Automotive", have been providing top quality expert mechanical service car and truck repairs or upgrades and maintenance for more than 30 years. We gladly and professionally serve a vast area of
Denver Metro
Colorado including Littleton,
Lone Tree
, Acres Green,
Highlands Ranch
,
Castle Rock
, Parker and focusing on Douglas County. Colorado's Car and Truck Auto Repair is a locally owned and operated small business owned by Mike Christopher which is associated with Car and Truck Emporium. Drop by to get a free estimate, or just call or email!
Car and Truck Auto Repair of Douglas County Colorado is a business that stands out because of it's  ASE-certified staff and the quality reputation they've earned with customers over the years. Christopher's Automotive supports both residential and commercial auto-service clientele. Call or email today to have your vehicle inspected or serviced by a quality driven Colorado

Auto Repair group whom is passionate about their business and yours! If your in need of an

insurance estimate, need diagnosis ran on your car or truck in the Denver area, or if you even want

to upgrade your vehicle in any way shape or form just let them know. They are the best team in the

Littleton and Highlands Ranch for all car or truck needs. Also if your on a budget that's okay, you

might be surprised what you can afford with Mike's Team

The best car and truck repair in South Denver Metro I've ever worked with!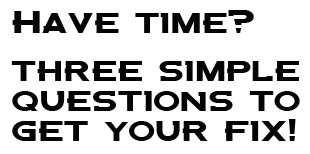 Smart as your car manufactures dealer with all the same advanced tools - but providing a much better price to our customers than your dealer ever could!